While Horphag cleverly used trademark law in the United States to censor accurate information from this web site, the Court of Appeals in Bordeaux, France found that Horphag Research Ltd. of Guernsey acted in bad faith when, starting in 1990, it usurped the rights of Dr. Jack Masquelier's French company, Centre d'Experimentation Pycnogenol (CEP), the original and principal supplier of the authentic French Pycnogenol extracts by Dr. Jack Masquelier.
and failed to carry out in good faith its contractual obligations vis a vis CEP, according to a final decision made by the Bordeaux Court of Appeals on June 26, 2001. ( —Townsend Letter for Doctors and Patients, April 2002.)
Horphag is no longer affiliated with Dr. Masquelier or his French companies, and Horphag's products are different. Yet Horphag controls the name, PYCNOGENOL®*.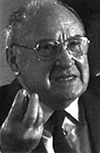 "Horphag's American PYCNOGENOL®* pine bark extract does not have my authorization and Horphag's material goes without my standard Quality Control."
—Dr. Jack Masquelier, inventor of "Pycnogenol".